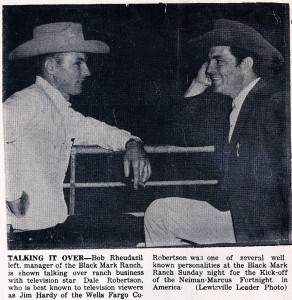 We played Cowboys & Indians as kids. Bonanza, Gunsmoke, and The Rifleman were our favorite TV shows. When we went to the movies, it was usually to see John Wayne, Clint Eastwood, or Glenn Ford. Cowboys & Indians were our heroes.

Have you ever wondered what Flower Mound was like in the Cowboy & Indian days? Flower Mound was not quite the Wild West, but we had more than our share of real Cowboys & Indians.

One of oldest campsites in America was discovered three miles East of Flower Mound, where the Clovis Indians camped 37,000 years ago, according to the 1957 archeologist that excavated the site. Other researchers say the early campground was not that old and that the carbon dating was flawed.

The Wichita Indians were the main tribe in our area in the 1800s. Kiowa, Caddo, Comanche and other tribes were here also. Wichita Indians considered high ground sacred and would have found The Flower Mound to be a very sacred place.

Most of Flower Mound was in the Eastern Cross Timbers. It was thick with Post Oaks, Blackjacks and underbrush. Early travelers referred to it as the Cast Iron Forest because of the dense trees and brush. The Cross Timbers provided habitat for a variety of animals, including deer, wolves, bears and large cats.

Long Prairie was narrow and long, about one mile by four miles, and ran through the Cross Timbers. It ran Southeast to Northwest. The Mound sat on the Long Prairie, as did the Presbyterian Church site on FM 3040. It would have been a welcoming and inspiring site to emerge from the Cross Timbers onto Long Prairie to see the Mound rising above the prairie. From the top of the Mound, hunters and travelers could survey over the Cross Timbers to prairies beyond.

T.R. Allen, an early settler, described the area in a letter dated 1847, "Here we found the country that had to be most wonderfully blessed by the great Architect of Nature, a soil as rich as the craving of man could wish for, and timber, water and grass in an abundance, and sufficient evidence of sunshine and the showers, beside the woodlands were lined with wild deer and turkey, and fine herds of antelope on the prairies the year round, the buffalo there during the winter season".

Sam Houston attempted to sign a treaty between the Republic of Texas and Warring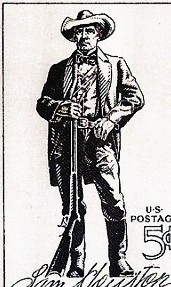 Indian Chiefs at Bird's Fort in 1843. Bird's Fort was about six miles south of Flower Mound. Houston camped on the surrounding prairies for several months, waiting for the Warring Chiefs to arrive at Bird's Fort. Houston likely saw and visited the Mound, and may have even camped on it.

Texas Rangers patrolled the area, protecting settlers from Indians. Rangers included well known names like E.J Tarrant, John Denton, Henry Stout, and Daniel Montague. The first Church Service in Denton County was held on Long Prairie by a company of Texas Rangers. John Denton preached on a Sunday morning in May of 1841, while the Rangers readied for a pursuit of Indians.

Sam Bass and his outlaw gang had many hideouts in Denton County. Bass surely used the Mound on occasion to observe lawmen approaching from Dallas and Fort Worth. It has been rumored he may have even have buried some of his stolen loot from the Union Pacific Train Robbery in Flower Mound. Noted Historians think he spent it all.

A major spine of the Chisolm Trail ran along western Flower Mound. Cowboys drove large herds of cattle from San Antonio, Austin, and Fort Worth to destinations in Kansas and Oklahoma.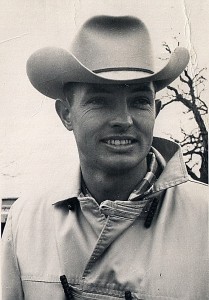 Bob Rheudasil shared a story about a horse thief from Weatherford that was apprehended and hung in Flower Mound by the local pioneers. Hanging was fitting punishment for a horse thief in those days. Loss of livestock was devastating to pioneer families. Locals gave him a proper burial, making a coffin from the soffit boards of a nearby farm house.

I considered Bob Rheudasil a real cowboy. Edward Marcus brought Bob to Flower Mound to run Black Mark Farms in 1953. Together, they grew Black Mark Farms to around 4,000 acres with over three hundred of the finest Aberdeen Black Angus in the World. Bob was elected the first Mayor when Flower Mound incorporated as a town in 1961.

The Duke himself even visited Flower Mound once. He was photographed at the old gun factory on Spinks Road. Many real cowboys, cattlemen, and celebrities visited Flower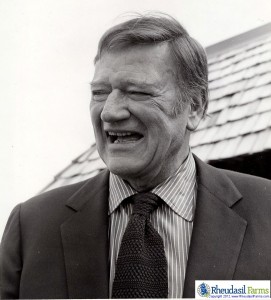 Mound and Black Mark Farm in its heyday.

Cowboys were real heroes in my youth. Real cowboys had honor and a steadfast code. I've heard people use "real cowboy" in derogatory ways. Supposedly, the slang means someone who acts careless and without authority. Some Texans may not take kindly to the derogatory use. Some may even show you a boot or help clean your plow for dishonoring a real cowboy.