It's only been a little over a week since word of the Long Prairie Homestead Cabin was revealed to the public. The cabin is already speaking to us about its past and its past inhabitants.
This past Saturday, over 2300 local residents toured this cabin with an open house sponsored by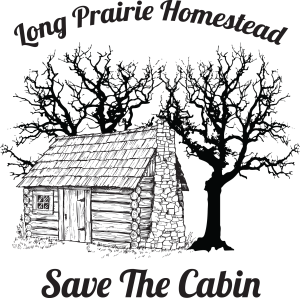 Vaquero Development and The Flower Mound Foundation. Several visitors stated they felt a special presence when stepping into the cabin. Several shared that they were overcome with emotion. An overwhelming number has a strong feeling that they want this cabin preserved at its present location.
Stories of log cabins, ghosts, and paranormal activity are common if you google these terms together. Mary King, the previous owner and occupant of the cabin, tells of a ghost from the cabin's past, "If you believe in ghost I have a good story to tell. Right after my husband, daughter and I moved in my husband started smelling something cooking during the night. Not too long after that my daughter started smelling what she thought was pot roast during the night. We had never said anything to my daughter about what her dad had smelled. They both continued to smell something cooking very frequently during the night time. No I wasn't up cooking or have the crock pot going. Then when we moved my mother in with us in 2002 she would ask me in the mornings what was I cooking all night, when I told her nothing she always said " well I guess some little old lady was in there cooking!" So my husband and mother would always get up saying well "the old lady was cooking again last night!" They all said the smell was stronger in the living room with the cabin fireplace".
Ancestors of the cabins occupants are surfacing since the stories of the cabin broke about a week ago. Larry Briscoe saw the story and writes to us about the cabin's original inhabitant, William Gibson, ""The discovery of this log cabin is one of those once-in-a-lifetime opportunities. The idea of being able to step back 150 years into the past and preserve it forever fires the imagination. I appreciate so much the efforts of all who are trying to preserve it. William Gibson was one of three Gibson brothers — James, Jesse and William — who brought their families along with the Eads, Halfords, Allens, Fosters, Smiths and others to Texas from Missouri. Jesse was my 3rd great grandfather. As an amateur genealogist, I have been researching this side of my family for the past two years. I told my daughter that buried treasure of gold and silver would not have been as exciting as this log cabin for me to find. Thank you Mark Glover for such a well-done report and the incredible amount of research you put into it."
Lindsey Troublefield, Another William Gibson descendant speaks to us through the Facebook Page on the Log Prairie Homestead, "Here is what I know about William Gibson…. He married Rebecca Wallis about 1826 in Missouri. They had 9 children, 8 of which were born in Platte County Missouri. The Gibson's were a group on 12 families that headed from Platte County, Missouri to Texas in 1844. They are mentioned in The History of Clay and Platte County Missouri book (1885). I'm not sure how William died. He died at the age of 64. I am hoping to one day find an obituary. Our line is through William Gibson's daughter Nancy Ann Gibson. She died in 1933 in Gainesville, TX at the age of 98. The story of her coming to Texas with her family is written about in the Cooke county history past and present book, pg. 597. She married Nathaniel Thompson and after his death she married John White. Our family has stayed in Texas since. I've also read about William Gibson in 'History and Reminisces of Denton County' (1918) pg. 29 Fort Worth, Outpost on the Trinity (1953) pg. 30. Their story of coming to Texas is also mentioned in the Denton Record Chronicle 7-28-1915 pg. 3".
After William Gibson, the earliest known owner of the cabin was WW Kerr. The Kerr's owned this cabin from 1890 to 1928. We are not sure if WW Kerr is William Ward Kerr who brought his family to Flower Mound in 1897, or William Wallace Kerr who was William Ward's son. William Wallace Kerr married Jenny McCombs in 1889 and it seems quite possible that this cabin was their honeymoon cottage.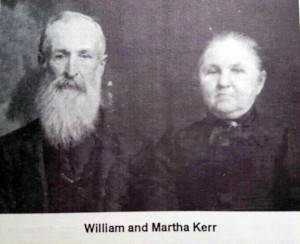 Ralph Felton Kerr tells a story of his father who was William Wallace Kerr's son in the book Sweet Flower Mound, "My father, Lee Olin Kerr was born in a log cabin set among the trees on the west side of the George farm, about three miles west of the Flower Mound Church. I believe William Ward and William Wallace were both working for George McCombs at that time".
The story goes on to tell of a Tornado on a hot muggy day in April of 1912. When the storm hit, Olin was knocked unconscious and woke up with a huge tree on his chest, only to realize that he was still in the eye of the storm. The tornado lifted the tree off of him and all the family survived.
Rose Mead, who lives in Bartonville, read about the Long Prairie Cabin in and saw the mention of the Kerr family. Rose reached out to us, "In the article, to my surprise, I saw that William Ward Kerr lived there. I was so excited to see that. I actually have a picture of a Ward Kerr that was his son. I would like to get more information on this family if possible. And, I would love to see the cabin. I'm very fascinated by the history of our area".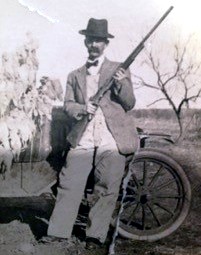 It's amazing how many people have been touched and affected by the cabin in the few days since it has been revealed. The Long Prairie Homestead Cabin holds many secrets about its early residents. We have only seen a glimpse of this cabin and heard a small sample of the stories the cabin will tell. As more of this cabin is revealed, the early pioneers that lived within its walls will speak more to us about their past and about the heritage they have left for us.
Part of the fun and excitement of this cabin is to imagine and discover more about it. We can all be 'history detectives' and research the amazing story of this log cabin as new details are revealed. What clues will be revealed next about the cabin? How will these clues speak to us about our early pioneers? We can only imagine at this point.